---
Stat-Ease, Inc. and Ritme, scientific solutions invite you to attend the 7th European DOE User Meeting & Workshop in Paris, France this June 6–8. The DOE User Meeting will be held at Le CNAM (the National Conservatory of Arts and Crafts) in the heart of Paris, close to the Louvre and Notre Dame. This bi-annual event is always a favorite with attendees—both informative and fun! Besides the interesting presentations and learning opportunities, at this year's event in Paris you will have the opportunity to go on a dinner cruise on the River Seine in an all-glass boat, taking in the sights and sounds of this beautiful city!
The conference will include a pre-conference workshop on June 6, followed by the 2-day user meeting on June 7–8 with talks by DOE Experts, as well as practical case study applications by industry practitioners. We will explore the latest design of experiments (DOE) techniques, and demonstrate new features in Design-Expert software, version 11. In addition, you will have the opportunity to get help from DOE consultants on your own particular applications. Our expert trainers are offering a pre-meeting workshop on June 6th. Sign up for Practical DOE "Tricks of the Trade" and learn advanced DOE skills that you can take home and apply. This is your chance to network, increase your DOE knowledge, learn from others' successes and challenges—all while visiting the City of Lights!
You won't want to miss this fun and educational conference in Paris. For more details and to register for the 2-day meeting and/or workshop click here. We hope to see you in Paris!
---
---
---
Stat-Ease, Inc. and CQ Consultancy hosted the 6th European DOE User Meeting in Leuven, Belgium on May 18th-20th, 2016. We offered two design of experiments (DOE) workshops on the 18th, and then the two-day DOE User Meeting on the 19th-20th. The venue at the historic Faculty Club was charming--complete with cobblestone streets, flowers in full bloom, and delicious artistically-arranged cuisine. The technical program was also excellent. We learned about the latest techniques in design of experiments (DOE) from well-known speakers in the field, and practitioners from a variety of industries spoke about their DOE successes, as well as some not-so-successful experiments and what they learned from them.
Attendees had the chance to network with others and consult with experts about their DOE questions. A highlight of the meeting was our special event on the 19th that included a concert by the choral group, Currende, a delicious dinner at Improvisio, and then beer sampling under the stars at The Capital. A good time was had by all. Hopefully you can join us for the 7th DOE User Meeting in 2018. Look for details to come!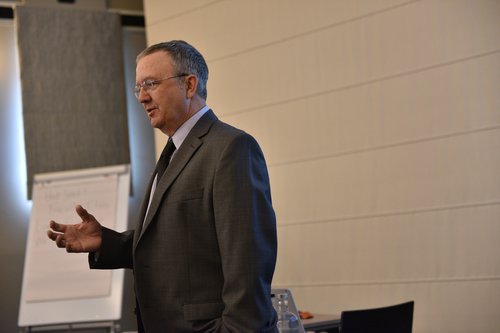 ---
---
---
Stat-Ease, Inc. and CQ Consultancy are pleased to announce the 6th European DOE User Meeting and Workshops on May 18-20, 2016 in Leuven, Belgium. It will be held at the Faculty Club, which is part of the historic Grand Béguinage. The béguinage originated in the early 13th century and is a UNESCO World Heritage location.
On the first day of the event there will be two workshop tracks offered: Figuring Out Factorials and Optimal Formulation and Processing of Mixtures via Combined Designs. Then on days two and three, a user meeting will be held with presentations by keynote speakers including Pat Whitcomb, Mark Anderson, Peter Goos, and more, as well as case study presentations by DOE practitioners. This is your chance to increase your DOE know-how, network with others, and do some sightseeing in beautiful Leuven. For more information and to register, click here.
The Optimal Formulation and Processing of Mixtures via Combined Designs workshop is a must for those with some familiarity of process experiment design who work in industries that formulate products. In this one-day presentation Stat-Ease experts will lay out the essentials of mixture design and build up from there to experiments that lead to the optimal combination of ingredients and how they get processed, thus hitting the sweet spot for manufacturing the highest-quality product at lowest cost.
---
---
---
Limited seats are left for the 2nd Asian DOE User Meeting and Workshop in Udaipur, India this March 3-5. Don't miss this opportunity to meet Pat Whitcomb, Founder of Stat-Ease, and be introduced to newly released Design-Expert® software, version 10! Increase your DOE skills, learn from others' successes and challenges, and network in this beautiful area voted the best city in the world in 2009 by Travel + Leisure magazine. For more information and to register, click here.
---
---
---
On May 27th, Stat-Ease, Inc. and Systech Technocraft Services Pvt. Ltd. held the 1st Asian DOE User Meeting in Goa, India, followed by a workshop on the 28th–29th on Designed Experiments for Pharma (DEPH). There were a variety of interesting case studies presented by Design-Expert® software users, as well as keynote addresses by Stat-Ease founder, Pat Whitcomb, Stat-Ease principal Mark Anderson, and COO of CAMO Software Inc., Brad Swarbrick.
We had a great turnout, lively discussions, and productive networking during the meeting and mixer that followed. Most attendees stayed on for the two-day workshop and found it very beneficial. The location at the Vivanta by Taj - Panaji hotel in Goa, India was beautiful. We hope that you can join us for the next Asian DOE User Meeting (to be announced)!
---
---